Buy and Sell
Custom Jewelry – Repair
Gold – Silver – Diamonds
We offer in-house jewelry repair!  Your jewelry never leaves the shop!  The best in-house repair in North Central West Virginia!
Meet our in-house jeweler!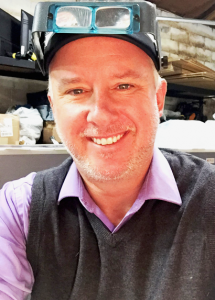 Charles Andrew Hoffman
Credentials:
Over 25 years experience in jewelry repair, customization, and creation!
GIA Graduate Diamond Grader
JA Certified Bench Jeweler
Andy's knowledge and experience ensures that your precious pieces of jewelry are in the most capable and professional of hands!
Your jewelry never leaves the premises!
If you'd like something made custom, just for you, we can help. Our staff has over 45 years combined experience in jewelry sales and service. Not only do we sell new jewelry, we have the hands on ability to modifiy existing or create new. The owner and jeweler are available 5 days a week to speak to you, in person. Let our jeweler be your jeweler. Only Keyland offers a personal touch when it comes to custom jewelry and repairs.
Here's a beautiful 14k yellow gold 2ct radiant cut diamond ring we recently made for a client. It was completed within one week and they were thrilled. Bring us your jewlery dream and will help you you make it come true. Both the owner and jeweler are on site daily to speak with you in person.